Create endless story prompts using 5 types of cards
Agents are characters who make choices in your story.

Engines are motivations and relationships that drive your story.

Anchors are objects, locations, or events of importance.

Conflicts are obstacles, consequences, or dilemmas your characters face.

Aspects are adjectives that describe other cards.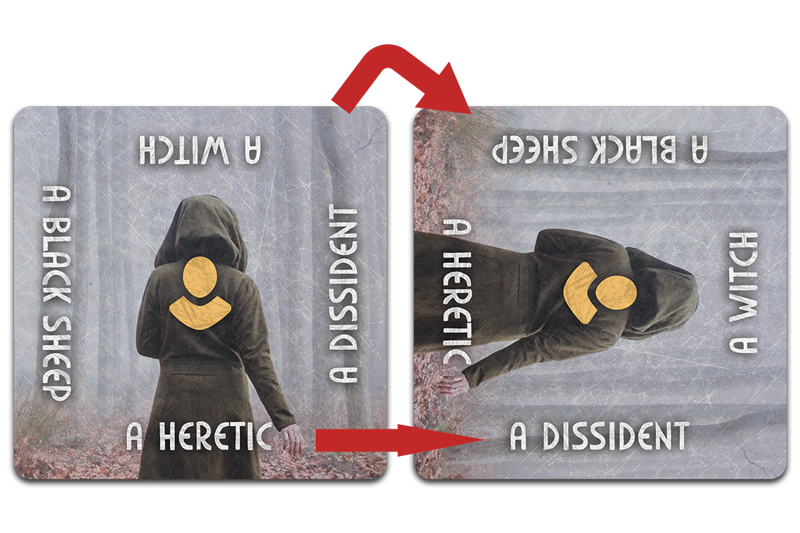 Rotate cards to change the cue
Every card contains multiple text options, called cues. Rotate cards to change which cue you will use for your prompt.
Combine cards to create story prompts
Simple Prompt: Story Seed
This prompt uses one of each card type to create an idea for a story about a character who who has a driving motivation and an obstacle to overcome to achieve it.
A survivor wants to expose the secret of a corrupted paradise but their community will reject them.
Once you have created your prompt, you interpret it.
The prompt above might inspire a story about an apocalypse survivor who finds a seemingly perfect haven community with a dark secret and must decide whether to dig deeper. Or an ageing war veteran who moves into an idyllic senior's residence, only to discover it's being used to launder money.
Complex Prompt: Circle of Fate
Engines and Conflicts can be combined to create motivations that connect characters to each other as unique relationships, complete with tensions and obstacles.
A demon wants to defeat an archaeologist but it will cost them their mental health. The archaeologist wants to control the demon but the innocent will suffer.
Complex Prompt: Clash of Wills
This prompt pits two characters against each other, giving them incompatible motivations directed toward the same character, location, object, or event.
A bloody god wants to destroy the world with a dire contagion but they must face their deepest fear. A wounded villain wants to find redemption in the dire contagion but they may lose their life. 
Complex Prompt: A Soul Divided
This prompt forces a character to choose between two competing motivations. 
An honest criminal wants to upstage a rival with a passionate letter and also wants to find their way back to their twin. They must choose between these.
With complex prompts, you may choose to ignore the Conflict cards and instead draw conflict from the choice the character must make between between motivations.
Watch real creators try the deck
Story Prompts Deck
Regular price
Sale price
$34.99
Unit price
per
Sale
Sold out
View full details